Murali – A legend who will never be forgotten by any
40 years ago, on a day like this, a child was born. A child whose parents had no idea that the child would one day be feared by many. Feared not for anything, but for the skill and talent he possessed. Years passed on and things started to show out. 40 years later, there is no one in this world who is a fan of cricket who does not know the name Muttiah Muralitharan.
Born on the 17th of April 1972 in the lush green highlands of Sri Lanka, Murali has shown great cricketing skills since he was a young boy studying at St. Anthony's College, Kandy. Beginning his career as a medium pace bowler at the age of 9 in his school, he took up spin bowling 5 years later to impress every one watching him bowl and also won the prestigious "Bata Schoolboy Cricketer of the Year" for the 1990/1991 school cricket season. After his school cricket career, Murali went on to play domestic club cricket with the Tamil Union Cricket and Athletic Club through which he caught the eyes of the national selectors and was selected to the Sri Lanka A team to tour England in 1991 in which he failed to impress. Murali was given a second chance to prove himself at a practice game against the Australians and this time impressed the selectors to be chosen for the National Test Side for the 2nd Test Match against Australia in 1992 and debuted on the 28th of August 1992 at the Colombo R.Premadasa Stadium and took 3 wickets for 141 runs in 51 Overs.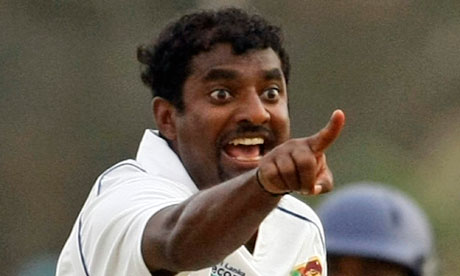 Since his test debut, Murali has been consistent in his cricket taking wickets in almost all the matches that he has played till date. Murali who impressed the world with his bowling in test cricket, made his International One Day Cricket debut almost a year later on the 12th of August 1993 against India claiming 1 wicket giving away 38 runs in 10 overs. Since then Murali has been part of every Sri Lankan Squad and to my personal memory has never been left out of the squad due to poor performance. Murali was also part of the 1996 World Cup Winning Squad of Sri Lanka and was a key player in the squad.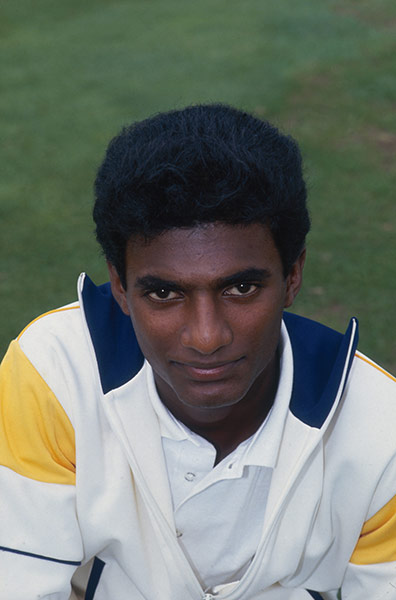 Murali has been the talk of the world for many reasons and it was the unity within the team and the courage of the captains as well as administrators of the game at those times which helped him through the tough situations. Former World Cup winning captain for Sri Lanka's bold move to call his team off the field just because he felt the umpire was being unfair in calling his bowler to be bowling foul was one such incidence. And among all these incidents, one thing and only that stands out in Murali which is the courage and dedication he gave to the game without mentally or physically falling down to those who criticized but instead always finding a way to prove his critics wrong.
In an article about Murali on Wikipedia it says that Murali's grandfather's first wish was that to see Murali claim the World Record for the most number of Test Wickets and that was to come true with Murali taking his 520th Test Wicket on 8th of May 2004 to bowl out Zimbabwe to an Innings defeat and also to break Courtney Walsh's previous record of 519 test Wickets. Sadly, his grandfather had passed away a month later at the age of 104. This was one of the very first records that Murali achieved and over the next few years he went on to break and make more records while also in my personal memory being the only cricketer or sportsman to have so many records to be credited to his name including one record for his Batting ability too. The records that he holds to this date in Test Cricket are:
Highest number of Test Wickets which is 800 wickets.

The highest number of International Wickets in Tests, ODIs and T20s combined which is 1320 wickets

Highest number of 5 wicket hauls in an innings which is 67 hauls.

Highest number of 10 wicket hauls in a match which is 22 hauls.

Only player to take 10 wickets in a match against all Test playing nations

Fastest bowler to reach 350, 400, 450, 500, 550, 600, 650, 700, 750 and 800 wickets.

Only player to take 10 wicket hauls in 4 consecutive matches and this has been done twice in his career.

Only player to take more than 50 wickets against every test playing nation.

Muralitharan and Jim Laker of England, are the only bowlers to have taken 9 wickets in a Test innings twice.

Only bowler to take 7 wickets in an innings against 5 or more countries.

Holds the record to have the most number of bowled dismissals in test which is 157 wickets.

Holds the record to have the most number of stumped dismissals in test which is 41 wickets.

Holds the record to have the most number of caught & bowled dismissals in test which is 31 wickets.

Holds the record for the most successful bowler/fielder combination dismissals between Mahela Jayawardena and Muttiah Muralitharan which is 67 wickets

Most Man of the Series awards won in test series which is 11 awards.

Shares the record with Jim Laker, Srinivasaraghavan Venkataraghavan, Geoff Dymock, Abdul Qadir and Waqar Younis to be one of the 6 bowlers to have dismissed all 11 batsmen in a match.

Most Test wickets in a Single Grounds which is 166 wickets at SSC Colombo

Only bowler to take more than 100 wickets in more than one ground which is 3 grounds. 166 wickets in SSC Colombo, 117 wickets at Asgiriya Stadium Kandy, 111 wickets at Galle Stadium.

Only bowler to get 75 or more wickets in a single calander year. He has done this 3 times. In the years 2000, 2001 and 2006.

Being only the batsmen to be out at 0 most number of times in combination of Tests, ODI's and T20's which is 59 dismissals. Also the only batting record that Murali currently holds.
Murali who held the cap number 54 in the Sri Lankan Cricket Team was also appointed Vice-Captain of the team in March 2010 for a brief time. Much has been talked about regarding Murali not being appointed captain of the team and Murali has himself cleared the air about this issue many a times which I will not talk into deeply.
Although Murali claimed the World Record for the Most Number of Test Wickets back in 2004, it was then later broken by Australian Bowler Shane Warne and both Murali and Warne were both neck in neck and the tussle between them created by the media as well as the fans as to who will reach the 700 wickets milestone first was something that was interesting to watch although sad to say it was Shane Warne who won the race and then retiring his career at 708 wickets. It didn't take long before Murali came back strong to re-claim his record by taking Paul Collingwood's wicket on the 3rd of December 2007 at his own home grounds the Asgiriya Stadium in Kandy as his 709th Wicket.
It was a sad day when the media around the world carried out the news that Murali had announced his retirement plans and that the 1st Test match in Galle against India in 2010. Crowds in large flocked to the grounds to see Murali play his last test match in which he also had the possibility of reaching 800 Test Wickets and needing just 8 wickets to achieve the feat. Come July 18th and the cricketing world's attention turned towards the Galle International Stadium where Murali was playing his last ever Test Cricket Match and a 17 years and 10 month long career was about to come to an end. The grounds were decorated and crowds in large were seen at the venue. In my personal experience, never before had I seen such crowds for a test match and that too on all five days of the match.
It was a fitting finale for the King when his captain Kumar Sangakkara at the toss of the match dedicated the match to Murali and said "We would like to win it for him". Out walked Murali in the grounds for the last time to a guard of honour by his fellow cricketers. And no one wanted to give an excuse to miss the opportunity of watching Murali in his last match and even the President of the Country H.E. Mahinda Rajapakse was also present at the venue to watch him play. With every wicket being taken, the whole nation was on its toes and also praying that no other bowler except Murali would take wickets on this particular match and that was exactly what the captain had in mind giving Murali the greater part of the bowling opportunity. As the match progressed Murali took 7 wickets and went upto 799 wickets and this moment onwards the nation began to watch. I personally remember trying to catch a glimpse of the match at every possible moment while travelling on the road with a friend. And then sadly I missed the moment he took the wicket but we knew it when he took it as SMS news alerts started coming in while updates on twitter and facebook by friends started flowing in.
And then we got back to office as soon as possible and went over trying to find the video of the moment and watching it. It was that intense. Murali needed one wicket to reach the milestone of 800 Test Wickets at that moment and what other best way could it be taken than from the very last ball he would be bowling in Test Cricket. The Indians were 338/9 with Pragyan Ojha taking strike. 3 Slips in place with the wicketkeeper being the 4th fielder around the batsmen. Murali tosses the ball on the offside and Ojha makes the mistake of edging the ball. All 3 slips try for the catch but it was Murali's favourite partner in dismissals, Mahela Jayawardene who dived to his left and easily catches the ball. Murali just put both his hands in the air while the spectators around the grounds who were in thousands just started cheering in numbers. Mahela who took the catch just kept kneeling with his hands in the air while team members ran towards Murali in happiness. Fireworks were set off around the grounds. Players and officials from both the teams went down to the grounds to congratulate him on his success while his team mates Angelow Mathews and Thilan Samaraweera do the honours of carrying the King of Spin on their shoulders out of the grounds while Murali saluted the crowd who turned out in numbers by waving the ball to them. No other team in the world playing cricket could have given a team mate of theirs a farewell like that of what Murali got by the Sri Lankan teams. With Murali wrapping up the Indian innings, SL needed 95 runs to win and that they did get easily and won the match by 10 wickets. The moment of Murali reaching 800 wickets was such that even if a major disaster had happened, the newspapers would have still carried the news about Murali as their main headlines. 800 Test Wickets is a feat that can be achieved by Murali alone and for this record to be broken, a new player must be born. Murali's record is such that the next player with the highest number of wickets among those who still are playing the game is Harbajan Singh from India with 406 wickets and the one after him is Daniel Vettori frm New Zealand who has taken 359 wickets at the time Iam writing this article. Thus Murali ended his Test Career making sure his record is virtually unbreakable for a very long time. Did Murali's grandfather's last wish of seeing Murali become the highest test wicket taker played a role in this record is known only to Murali.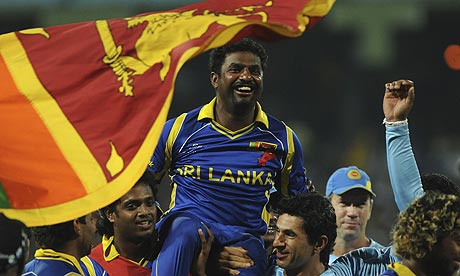 Approximately an year later Murali announced his plans to retire from ODI cricket and said to the world that the last World Cup match he plays in the ICC Cricket World Cup 2011 would be his last match. Murali who is also the record holder for the highest number of ODI wickets which stand at 534 wickets which is another record that is difficult to break since the next player who currently plays is Bret Lee who is 157 wickets behind. Murali once again got a fitting farewell to his career by being able to play in his 3rd World Cup Finals match although we lost it. I can still remember 29th of March 2011, R.Premadasa Grounds, Colombo when Murali played his last ODI match in the Sri Lankan soil. The standing ovation he received from the 35000 people in the stands while Murali did a lap around the ground saluting his fans. 5 days later on the 2nd of April 2011, Murali ended his International Cricket Career after playing in the ICC Cricket World Cup 2011 finals in the Wankade Stadium in Mumbai, India.
Murali may have retired from the International arena but still continues to play domestic cricket in many parts of the world. IPL, County Cricket, Australian Domestic Matches are some domestic leagues he plays in. He still does continue to scares his opponents. The eyes that pop out while he bowls and the mystery bowling style behind his palm is something that will torment batsmen as long as he plays.
Murali may be gone, but let's all hope that little Murali who is currently receiving his primary education at a prominent school in Colombo also takes up cricket like his father and achieve great heights.
© Cricturf | Ahamed Nishadh