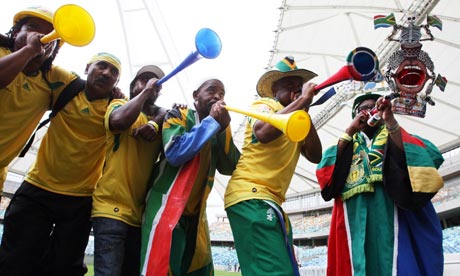 29, July 2012 (CricTurf): Sri Lanka Cricket announced that none of the spectators will be allowed to enter venues with portable horns, hooters etc from today.

Security personnel will pay a close attention for these instruments from the Tuesday match between India vs. Sri Lanka, and if a spectator is caught at premises with such instruments, such items will be confiscated and necessary security measures will be taken against such spectators.
Photo : Guardian.co.uk | Jon Hrusa/Epa/Corbis


Sri Lanka Cricket has taken this immediate decision to safeguard the spectators comfort inside venues. Complains have arrived with the instant rise of such instruments during Cricket matches as it harms the freedom of spectators and also a threat to health.

Misuse of such instruments has also made a great disadvantage to take this decision and the uprising trend of such noisy environment has harmed directly and indirectly to the spectators.

This band will not affect the "PAPARE BANDS" and such entertainment instruments. This rule will be implemented from the 31st match and we warn our lovely spectators not to bring such instrument along to minimize difficulties that may be caused.

Sri Lanka Cricket captain Mahela Jayawardane specially mentioned that Sri Lanka spectators are the best spectators when comparing, and the atmosphere of Sri Lanka fans uplifts the moral of players and management staff  throughout any series with any opponent.
Therefore let's continue to uphold the state as the best spectators in the cricket world and continue to support our nation by adhering to the rules and regulations of the authority keeping up the Sri Lankan spirit high as always!
(c) CRiCURF | SLC Press