Champion Sri Lankan racer Dilantha Malagamuwa clinched another major international honor this weekend when he claimed a podium finish in the famous Macau Grand prix on his Lamboghini.
After seven years of competing and trying, Malagamuwa finally managed to achieve his dream in a race that is considered to be one of the world's most difficult.

The Sri Lankan flag was flying high at the famous race thanks to Malaysian-based Malagamuwa who made history for his motherland by becoming the only Asian to clinch a podium finish at the race.

Malagamuwa's achievement was even more remarkable considering the odds he has faced after meeting with a big accident at Friday's qualifying round. He was about to exit from the race without competing due to his damaged car as he did not have enough spares and unfortunately couldn't even borrow from any team.

"We had already given up the idea of fixing it when some of my Sri Lankan friends living in Macau took me to a workshop owned by an Englishman called Neville Mckay who provided all the parts my car required. We repaired the car throughout the night and the team performed a miracle when they got it ready by the morning and we were ready for the next qualifying. The car was performing only at 80% of its full power but I was able to qualify tenth overall and 3rd in class" said Malagamuwa describing the events that unfolded.

A massive accident in the third lap destroyed six cars but Malagamuwa miraculously escaped it before the race was red flagged. From the next star Malagamuwa roared ahead and finished second. "There was nothing more we could expect. I always believe in God and this was another example as proved by so many miracles. I would like to thank all my Sri Lankan friends in Macau without whom I could have never raced after the accident and my crew. One more dream of mine came true and I am sure every Sri Lankan can be happy and proud about it" Malagamuwa stated after his victory.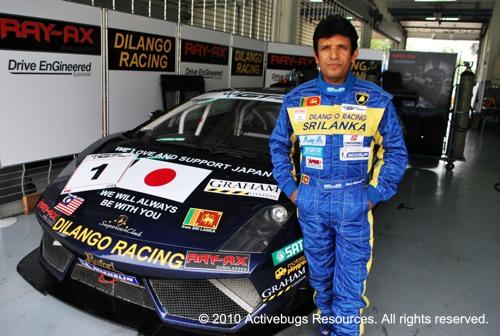 By Channaka De Silva - Dailymirror